Loading Docks & Accessories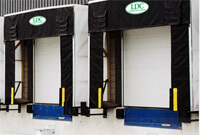 We make your loading dock better. Choose from a wide range of top quality loading dock products, such as Bumpers, Bug Screens, Shelters, Seals and more.
Save money on reduced energy costs
Improve Safety
Increase Productivity
Parking Curbs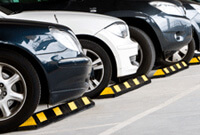 The rubber Park-It parking curb is used to effectively guide cars when pulling into a parking stall. It is profiled at 4″ high, safeguarding potential damage to today's low, front end car designs. They are more resistant than concrete or plastic curbs.
Security Gates and Storefront Protection

Are you at risk of a smash and grab robbery? Protect your assets today! We now offer top quality security gates and storefront protection. We also have mobile gates and controlled access gates.
For examples see:
– www.xpandasecuritygates.com
– www.quantumsecuritygates.com
Speed Bumps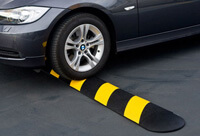 Speed bumps were developed specifically to address speeding and cut-through traffic. They slow cars to a stop. The Speed Bump's flexible design conforms to the contour of virtually any road surface. The bumps are simple to install and can be easily removed for storage or relocation. They are pre-drilled for anchoring spikes or lag bolts. Designed to withstand extreme temperature variations, the bumps are resistant to moisture, oil, and ultraviolet light. They will not warp, crack, chip, or rot.
Wheel Chocks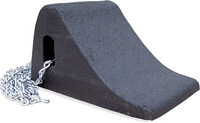 This recycled rubber wheel chock fluted design causes downward pressure to lock the unit in place. It is designed for maximum traction on wet or dry surfaces.